★ Christmas Event!
★
Be welcome to the Christmas event, very similar to the event that happened last year!
Event Schedule


Starting Date: 22/12/2021 (DD/MM/YYYY)

Ending Date: 18/01/2022 (DD/MM/YYYY)

Event NPC Removal Date: 25/01/2022 (DD/MM/YYYY)


How it will work?


After you kill mobs in the open world, there will be one chance to one special mob spawn
Note: Mobs can not be more than 10 levels of difference from your character to have one chance to spawn this special mob





With it you'll have one chance to drop one special event coin




With this christmas event coin you can exchange special items in the NPC called Avery

Items to Exchange:

| | | |
| --- | --- | --- |
| Potions | Dogis | Upgrade |
| Strong Potion | | |
| Dexterity Potion | | |
| Constitution Potion | | |
| Energy Potion | | |
| Soul Potion | | |
| Focus Potion | | |
| Movement Speed Potion | | |
| Movement Attack Potion | | |
| RP Recovery Potion X3 | | |
| | | |
| | | |
| --- | --- | --- |
| Inventory | Equipment Boxes | Vehicle |
| Z24 [Permanent] | Brown Box | CC Christmas Vehicle |
| Z28 [Permanent] | Silver Box | |
| Z32 [Permanent] | Golden Box | |
Magic Box
Magic Box (Armor set)

Magic Box (Sub-Weapon)



Magic Box (Main Weapon)



With this Christmas event, we decided, release one of our new systems that were under development.
★ Hoi-Poi Fashion!
★
Welcome to our new system, called Hoi-Poi Fashion!
With it, you'll be able to transform equipment such as armors, weapons, and sub-weapons into Dogis!
How it works: You can access the Hoi-Poi Fashion feature in the Hoi-Poi Machine, close to Craft Masters.

For weapons and sub-weapons you need to insert 3 pieces of the same weapon and with the same rarity grade, and use the weapon/sub-weapon magic boxes.

For armors, you need to insert the pieces of the same set (Top, Pants, and Boots) of the chosen armor.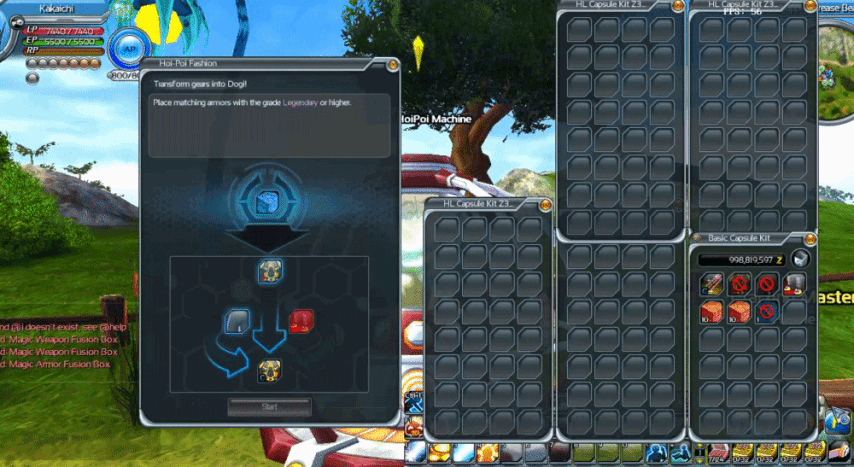 Notes:
Armors and Weapons transformed as dogi can be tradable!
★ New Cosmetic Tab
★
Our team is making preparation for future new cosmetic customization systems,
the planning about new cosmetic system requires a new interface with more space
so our team decided to move everything related to Cosmetic system, in a new tab called "Cosmetic"
this means that now, the Dogi, mask, helmets, and other systems related to cosmetics will be available in this tab only.
The actual cosmetic interface is still in early access, so the UI it's WIP (Working in progress), and will be fully changed in future.
★ (Preview) Dogi Dyeing [NOT RELEASED YET!]
★
Here is a
preview
of one of our brand new cosmetic features that we will implement in future updates.
You'll able to dye some dogis with 256 colors, including customized gloves, boots, and decals colors.
Notes:
please stay aware that this customization system is not available yet.
★ Notes ★
This is not a patch note, it's only an event note, about how the Christmas event works.

Here is a small list of some issues fixed in this update, it doesn't contain full detailed information and all fixes/bugs made.
Next week (29/12) and the further week (5/01) we are planning to release more updates with patch notes.
Connection Stability - Already connected should happen less often if, we are trying to solve all issues related to it to get rid of unstacking function.

Chat Server - Should be much more stable now.

Link Item - Link item doesn't cause problems with skill targeting anymore.

Item - Item was displaying only 4 maximum effects, it should now display 5 effects.

Crashes - Fixed various crashes related to TMQs, CCBDs, Friendlist and Change Channel.

Signature
"Remember, hate is always foolish, and love is always wise."